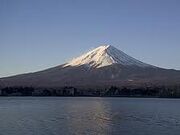 Mount Fuji, a dormant volcano, rises high above the Japanese landscape. A popular climbing destination, Mount Fuji has served as a sacred site for centuries, being one of Japan's three holy mountains.
Mount Fuji lies about 70 miles west of Tokyo, Japan. Lakes surround the volcano, which is located in a national park. Mount Fuji can be seen from Tokyo on clear days.
Mount Fuji is the tallest mountain in Japan. It has a height of 12,388 feet; for several months out of the year, snow covers its conical summit.
People consider the mountain to be sacred, being named after Buddhist fire goddess Fuchi. At the summit sits a shrine to the Shinto goddess Senjen-Sama. Buddhists believe it is a gateway into another world.
Read more: Fuji Volcano Information | eHow.com http://www.ehow.com/facts_5789977_fuji-volcano-information.html#ixzz1krteZja6
Community content is available under
CC-BY-SA
unless otherwise noted.