Madrid, Spain is a very old city that has been occupied since prehistoric times. Originally called Matrice, the occupying Moors called the city's Manzanares River, al-magrit or "source of water." The city where the river was located ultimately came to be known as Madrid.
Early Significance
Edit
Madrid remained a relatively small town until Phillip II set up his royal court in the city around 1561. After gold was discovered in the Americas by Spanish conquistadors, the wealthy of the city grew tremedously, according to Spanish Town Guides, leading to the creation of such modern landmarks as the Prado and the Royal Palace.
==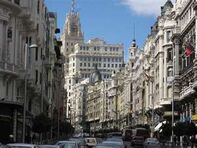 Cultural Attractions and Shopping==
Madrid is filled with diverse attractions. For instance, the Prado is a well-known museum, housing the most extensive collection of Spanish art in the world, including masterpieces by Velasquez, Goya and El Greco, according to Frommers. There are also various shopping choices in Madrid including the high-end ABC Serrano mall and the extensive Plenilunio mall.
Read more: About Madrid, Spain | eHow.com http://www.ehow.com/facts_4869077_madrid-spain.html#ixzz1knRp63Mw
Community content is available under
CC-BY-SA
unless otherwise noted.