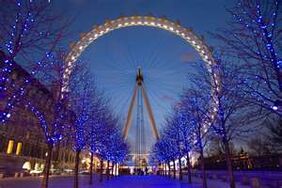 One of London's most recognizable attractions is the British Airways London Eye, aka the Millennium Wheel. In operation since March 2000, the world's largest observation wheel is owned by The Tussades Group and sponsored by British Airways.
The wheel revolves slowly enough to allow riders to board or disembark without its stopping. The wheel is stopped for people in wheelchairs or the elderly. During the 30-minute revolution, riders are treated to a breathtaking view of the city of London. On a clear day, one can see as far as 25 miles (40 kilometers) in all directions. It has become London's no. 1 paid-for attraction, with about 10,000 people visiting each day.
There are 32 capsules, representing the 32 boroughs of London. Each is airconditioned and has bench seating. Eight hundred people can ride at once.
Read more: http://www.answers.com/topic/london-eye#ixzz1ktZX1F9G
Community content is available under
CC-BY-SA
unless otherwise noted.