It's often said that "what happens in Vegas, stays in Vegas." Known as The Entertainment Capital of the World, Las Vegas has a reputation as infamous as it is famous, built around a carefully crafted world of legalized gambling, stage shows, exotic hotels and expensive restaurants.
Gambling was legalized in Nevada in 1931. By 1946, Bugsy Siegel--one of the decade's most notorious gangsters--had opened The Flamingo on what would later become the Vegas Strip.
The Flamingo
Edit
The Flamingo was run by Bugsy Siegel at the behest of Russian-American gangster Meyer Lansky. By 1947, over $4 million had been invested in the hotel/casino--and after it failed to turn a profit, Siegel was murdered by an unknown hitman while reading the paper in his Beverly Hills home.
Hauntings
Edit
There are a number of hotels and casinos that are rumored to be haunted, including The Luxor, MGM Grand, Stratosphere, Bellagio and the Hard Rock. Even Elvis has been said to haunt Las Vegas--at the Las Vegas Hilton.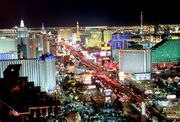 Notorious for its many wedding chapels, there are approximately 315 weddings per day in Las Vegas. That's more than 114,000 a year.
Only five percent of visitors say they come to Vegas to gamble, but before they leave, 87 percent of them do.
Read more: Interesting Facts About Las Vegas | eHow.com http://www.ehow.com/facts_4759870_interesting-facts-las-vegas.html#ixzz1km3eJN3C
Community content is available under
CC-BY-SA
unless otherwise noted.